Ductless Mini Split Repair in Fort Wayne, IN
Fort Wayne, IN Ductless Mini Split Repair
You need your home to be an oasis from the brutal heat of Fort Wayne, Indiana summers and the bitter cold of the winters. Unfortunately, the comfortable atmosphere inside your home can quickly slip away when issues develop with your ductless mini split system.
If you find yourself in this predicament, don't fret – our professional HVAC technicians at Flow-Tech Plumbing & Heating are here to help. Our company has more than three decades of experience repairing all types of HVAC systems, including ductless mini splits. Our NATE-certified technicians pride themselves on providing Fort Wayne residents with superior repair, maintenance, and installation services to address all your ductless system needs.
Contact Flow-Tech Plumbing & Heating today for ductless mini split repair in Fort Wayne, IN.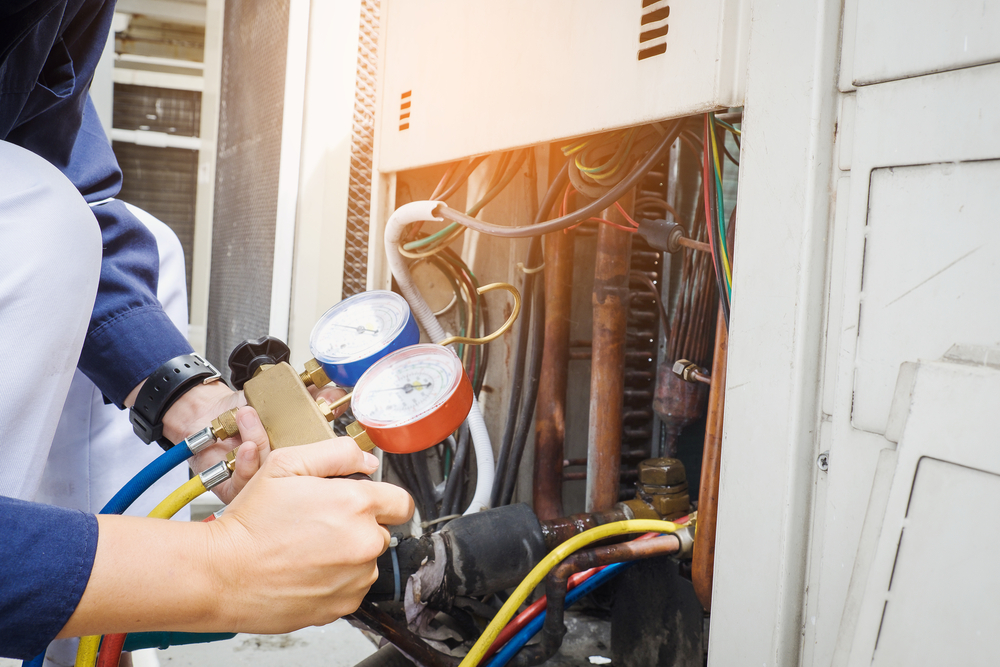 Common Signs Your Fort Wayne, IN Ductless Mini Split Needs Repair
Your ductless system is crucial to comfortable temperatures in your Fort Wayne home year-round. As a result, it's important to pay close attention to your ductless mini split. Oftentimes, it will exhibit signs that it requires repair before it reaches the point of a major breakdown.
Some of the most common warning signs include:

Reduced Performance:

If your Fort Wayne, IN, ductless mini split struggles to maintain the desired temperature or is not providing the same level of cooling or heating efficiency it once did, a problem likely exists within the system. Some common issues that reduce a ductless mini split's performance include clogged air filters, frozen evaporator coils, compressor issues, refrigerant leaks, or problems with other system components.

Leaking Water:

Water pooling around the indoor portion of your heat pump system may indicate a clogged condensate drain line which can damage your system and home. Have your heat pump's condensate drain line fixed as soon as possible.

Strange Noises:

Jarring noises such as rattling, buzzing, and grinding are not only annoying, but they often signal an issue with your heat pump such as a damaged or broken part. It's crucial to fix strange noises promptly to prevent more serious issues.

Unpleasant Odors:

Like strange noises, foul or musty odors also signal problems such as mold or mildew growth which can negatively affect the indoor air quality and lead to health issues if left untreated.

Short Cycling:

When your heat pump system starts and stops a cycle without reaching the set temperature, it's called short cycling. Short cycling can damage your system and lead to expensive energy bills. Common causes of short cycling include faulty thermostats, clogged air filters, frozen evaporator coils, refrigerant leaks, and an improperly sized unit.
Contact Flow-Tech Plumbing & Heating to schedule your repair appointment today.
The Benefits of Regular Maintenance for Your Ductless Mini Split
If you want your ductless mini split to operate efficiently year-round and avoid the likelihood of a repair throwing a wrench into your day, invest in Flow-Tech Plumbing & Heating's Service Maintenance Agreements. 
Our tune ups are performed in the spring and fall to ensure your ductless mini split is ready to both heat and cool your home. Our technicians will inspect, clean, tune, and fix any problems they identify to save you money on costly, more frequent repairs down the line.
Call Flow-Tech Plumbing & Heating to learn more about our Service Maintenance Agreements.
Reliable Ductless Mini Split Repair Service in Fort Wayne, IN
At Flow-Tech Plumbing & Heating, we're proud to offer reliable and affordable plumbing, HVAC, and indoor air quality services, including ductless mini split repair to Fort Wayne, IN, homeowners. When you partner with our skilled team, you can rest assured we'll provide you with the best HVAC service available in Northern Indiana. 
Contact Flow-Tech Plumbing & Heating today to schedule an appointment.
FINANCING AVAILABLE
We care for our customers and we know new plumbing can be a large investment, so we offer financing options. Through the Wells Fargo Financing Program, we offer several flexible financing options to ensure you can invest in your home without breaking your budget.
With approved credit from Wells Fargo Bank, N.A. you'll enjoy: