Fort Wayne, IN Air Conditioning Repair
AC Repair in Fort Wayne, IN
The heat and humidity of summer in Fort Wayne, IN, can make your home extremely uncomfortable, leaving you wishing for an escape. A working air conditioner is a must at this time of year, yet, like all home appliances, AC units can occasionally break down. When something goes wrong with your AC, you want prompt, affordable service offered by Flow-Tech Plumbing & Heating, Inc. to get it back in working order.
Our qualified team provides a comprehensive list of air conditioning repair services whenever air conditioning problems strike. Our team of NATE-certified HVAC technicians has proudly served Fort Wayne since 1991. 
We offer both residential and commercial air conditioning repair services, all with a high level of customer service and professionalism. Our primary goal is to keep you comfortable.
Contact Flow-Tech Plumbing & Heating, Inc. to address all of your AC system repair needs today.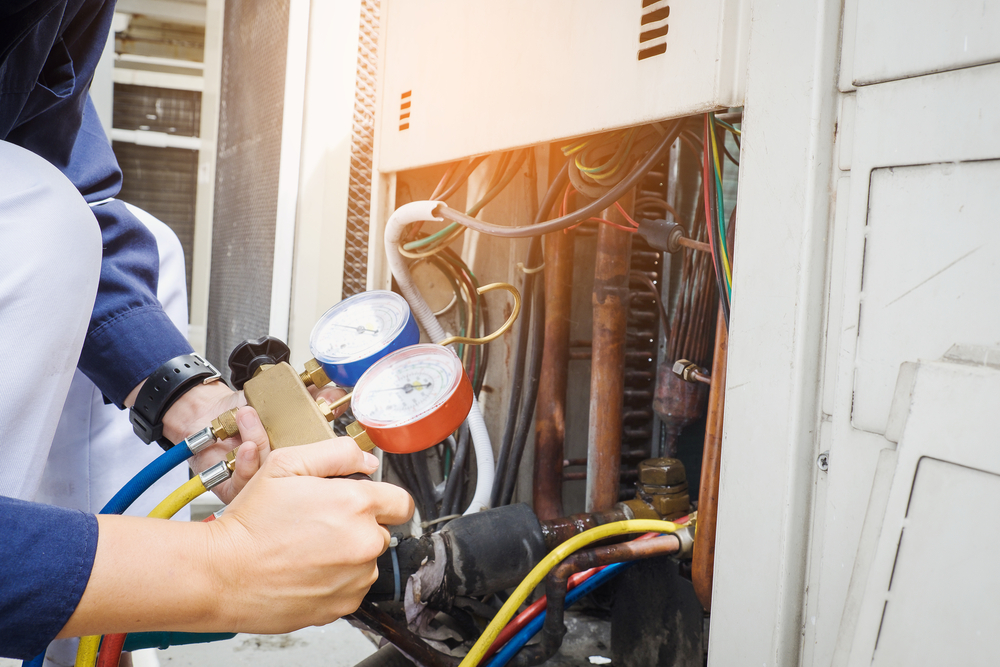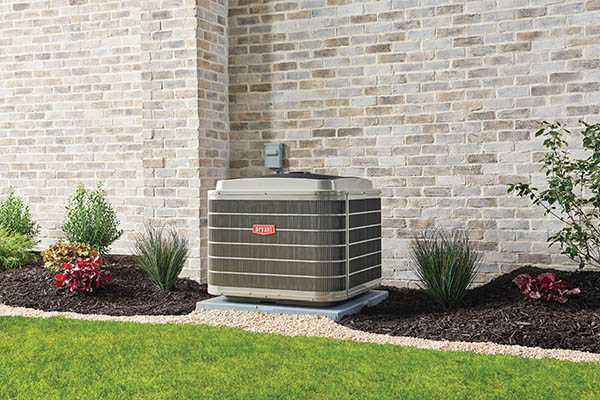 Signs You Need Air Conditioning Repair
You might not know your AC unit needs repair until it's too late and it breaks down completely. Other times there are clear warning signs that can help you catch a repair before it becomes too serious or costly.
Scheduling an air conditioner repair with our skilled professionals at Flow-Tech Plumbing & Heating, Inc. before a system-wide breakdown will ensure your AC is running smoother in less time. 
Some common signs that your unit needs repair include:
System Leaks
Puddles around your air conditioning unit are a sign of a leak. Leaks can come from a variety of problems. Sometimes, it may be a broken condensate drain line or a cracked drip pan. Sometimes, one of the hoses has a leak that's spilling dangerous refrigerant into your home or yard. 
The only way to find out for certain is to call one of our HVAC techs for help.
High Humidity Levels
Increased humidity in your home may not be due to the weather outside. One of the roles of the air conditioner is to remove humidity. If these levels increase, it may be a sign that the AC isn't performing well.
Strange Noises or Odors
Air conditioners make some normal noise when running, but any new or unusual noises, like rattling, hissing, or clunking, are clear signs of a problem. These sounds are often caused by loose components or alignment issues. 
Your AC also shouldn't have an odor when it is running. An odd smell may indicate a contaminant somewhere in the line, including dangerous mold or mildew. Both strange noises and smells require prompt attention from our licensed techs.
Energy Cost Increases
If your energy bills are rising without a clear cause, it may be due to a problem with your air conditioner. When your air conditioner is struggling to keep your home cool, it will run harder and longer, driving up your energy costs. 
To get your bills back in control, you'll need to contact our team for an inspection and repair.
Ice on the Outdoor Unit
If you get ice buildup on your outdoor unit, it's most likely the result of low refrigerant levels. But it could also be a more serious problem, such as a refrigerant leak. Refrigerant can be harmful to you and your family, so it's important to call our qualified team as soon as possible.
24/7 AC Repair Services
Air conditioners seem to break down at the most inconvenient times. Your AC repair needs don't keep 9-to-5 hours, so neither do our HVAC repair technicians. At Flow-Tech Plumbing & Heating, Inc., we offer high-quality air conditioning repair from our award-winning team whenever you need it. 
Whether the problem starts in the middle of the night or over the weekend, we're here to help with affordable air conditioning system solutions.
Lessen the Risk of Repair with Routine Maintenance
Quality repair services are crucial to keeping your AC running efficiently. But what if we told you there was a way to prevent repairs? With proper regular maintenance from our experts at Flow-Tech Plumbing & Heating, Inc., you can take care of your AC system's needs proactively and save money by avoiding serious repairs and breakdowns down the road.
The benefits of routine air conditioning maintenance include:
Maintaining energy efficiency

Improved indoor air quality

Lower utility bills

Prolonged equipment life
We offer a Service Maintenance Agreement to all of our customers in Fort Wayne, IN. With this maintenance program, you will receive an automatic annual maintenance appointment to prepare your air conditioner for the heat of summer. Call Flow-Tech Plumbing & Heating, Inc. for more information on a customized maintenance plan for your Fort Wayne home.
Contact Flow-Tech for Air Conditioning Repair in Fort Wayne, IN
When you call Flow-Tech Plumbing & Heating, Inc. for AC repair in Fort Wayne, IN, you can count on us to do the job right. We employ a team of more than 70 NATE-certified technicians and office staff who are dedicated to honest service. All of our heating, ventilation, and air conditioning (HVAC) pros offer kind and dependable services for residential and commercial air conditioner repair needs. And all of our HVAC, indoor air quality, plumbing, and commercial work is backed by a 100% satisfaction guarantee. Contact Flow-Tech Plumbing & Heating, Inc. online or call us at 877-511-3406 to schedule service today.
FINANCING AVAILABLE
We care for our customers and we know new plumbing can be a large investment, so we offer financing options. Through the Wells Fargo Financing Program, we offer several flexible financing options to ensure you can invest in your home without breaking your budget.
With approved credit from Wells Fargo Bank, N.A. you'll enjoy: